Details:

You are cordially invited to

CanCham Multi-Chamber Crystal Ball Economic Outlook and Business Luncheon - The Year Ahead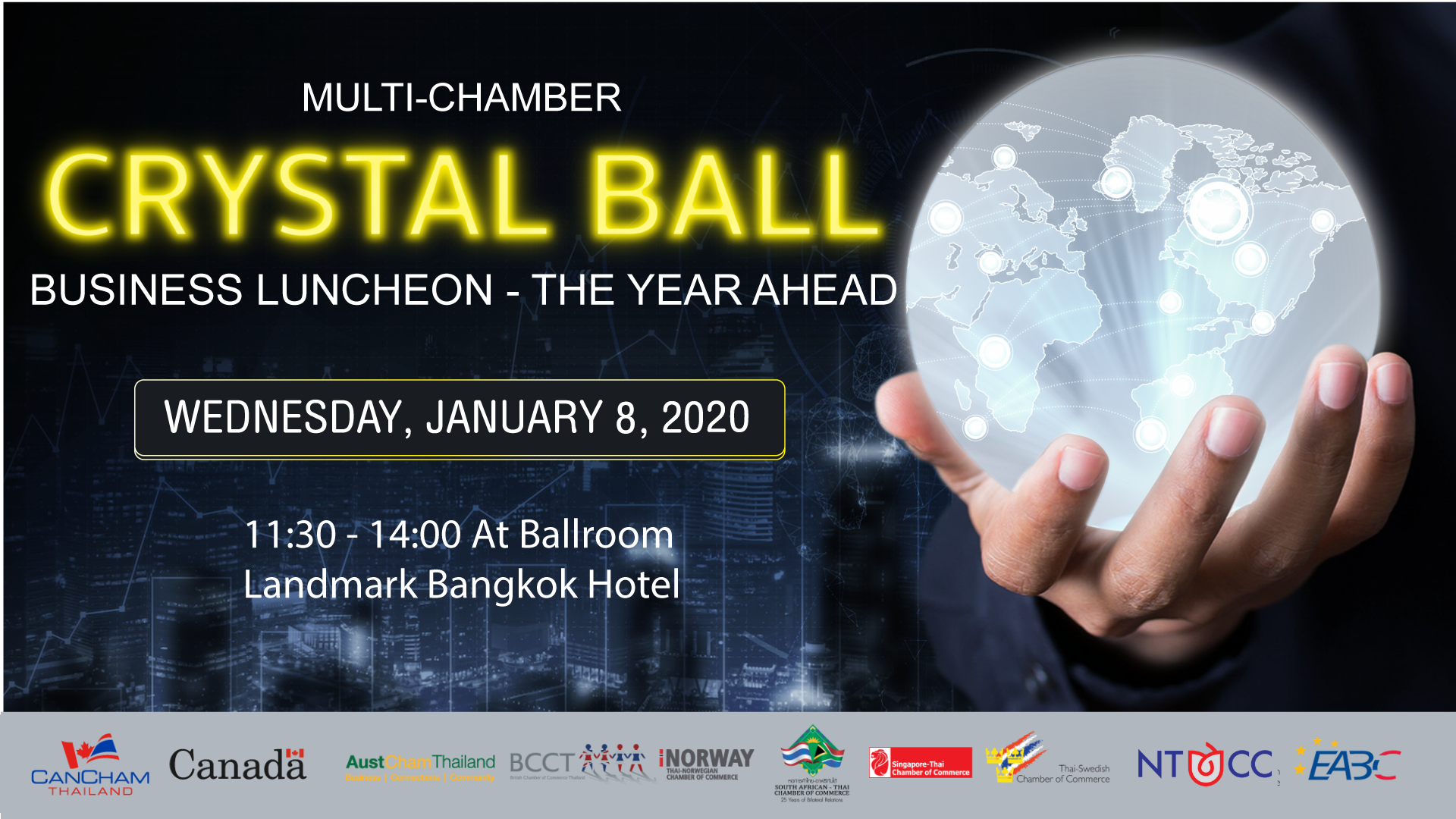 CanCham Thailand in collaboration with the Australian, British, EABC, Netherlands, Norwegian, South African, Singapore, and Swedish Chamber of Commerce, proudly presents "MULTI-CHAMBER CRYSTAL BALL ECONOMIC OUTLOOK AND BUSINESS LUNCHEON – THE YEAR AHEAD" on 8th January 2020 at Landmark Bangkok Hotel.
This CanCham flagship event promises to be a lively, interactive discussion during which business leaders will provide their perspective and outlook on the economic, financial, political, digital transformation landscape, work/labour landscape for the year ahead. The key trends in various sectors of industry will be highlighted.
The event will provide ample opportunity for participants to share insights and ideas amongst peers in the business sector. The panel discussion will be followed by Q&A.
Event Details:
Date: Wednesday 8th January 2020
Time: 11:30 am – 2.00 pm
Venue: The Landmark Bangkok Hotel
Dress code: Business Attire or Smart Casual
Speakers:
Dr. Jessica Vechbanyongratana, Labour
Dr. Jessica Vechbanyongratana is an assistant professor of economics at Chulalongkorn University. Her research interests are in contemporary Thai labor market issues and 19th and 20th century Thai economic history. She has published several works on Thailand (READ MORE)
Dr. Peerapat Chokesuwattanaskul, Economics
Dr. Peerapat Chokesuwattanaskul is a lawyer, an economist, and a data scientist. Before working as a full-time lecturer in Law and Economics at the Faculty of Law, Chulalongkorn University, he worked as a Supervisor in Economics at University of Cambridge and a Data Scientist at Agoda.com (READ MORE)
Mr. Kittiphun Ouiyamaphun, Real Estate
Cost:
Regular price after 1st January 2020
Booking: Direct booking to CanCham, please click here